Delivering our products promptly whenever necessary and wherever required
Sales of materials and equipment are the core business of NISHIMURA CHEMITECH.
In particular the surface treatment field is the founding business of our company, and we pursue a customer's-convenience-oriented strategy, "Stock & Delivery", with a nationwide expansion of our locations. Rather than simply being a wholesaler that lays in and sells goods, we are committed to providing value that includes technical support, and we greatly esteem the spirit of "Customer Satisfaction First," which is to "stay as close to customers as possible and deliver our products promptly whenever necessary and wherever required".
Of the sales of materials and equipment, the semiconductor and flat panel display (FPD) field got into the business later, but it is now one of the indispensable growing businesses.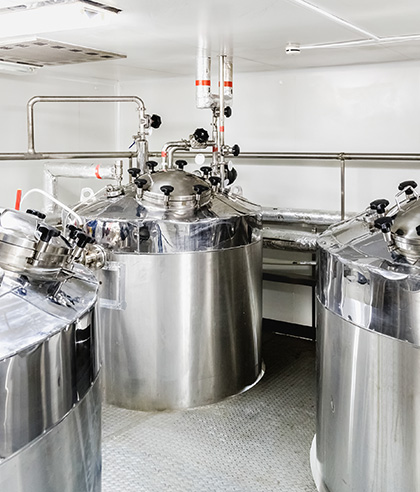 As a trading company function, we deal with products in three major fields: process materials, consumables and facility/ancillary equipment. Of these, for the sales of facility/ancillary equipment, we have embarked on a new business beyond the framework of a general trading company.
As for scrubbers, for instance, we have developed a highly difficult, proactive management type of equipment maintenance service in parallel with the sales of high-performance products. Scrubber is a product for which maintenance is essential as its inside wears heavily, and we had to spend a lot of time and effort to acquire support capabilities rivalling those of the manufacturer. As a result, we succeeded in providing customers with "experiential value", beyond mere provision of products, in the form of their experiencing "stable operation of high quality overseas-made scrubbers 24 hours a day, 365 days a year". We have been strengthening our presence as a technical support trading company.
As for chemical/slurry delivery systems, we have developed a business that provides original customization of equipment to suit customers' needs and also a business that provides equipment design and manufacturing from scratch. These are growing businesses that have been receiving more inquiries year by year because of the unique value they create by making full use of proprietary technology developed from our past experience.
These businesses are novel attempts for a trading company, which were born out of NISHIMURA's business spirit of "we shall do whatever we can for our customers".